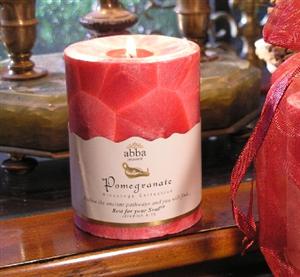 POMEGRANATE CANDLES


The pomegranate, a Persian native, is one of the oldest fruits known to man and was highly esteemed by the Israelites. Carved figures of the pomegranate adorned the tops of the pillars in Solomon's temple, and worked representations of this fruit ornamented the hem of the robe of the High Priest.
Jewish tradition teaches that the pomegranate is a symbol for righteousness, because it is said to have 613 seeds which corresponds with the 613 mitzvot or commandments of the Torah.
Pomegranate is one of the seven species the spies brought back with them to show how fertile the Promised Land was. It speaks of G-d's favor exhibited in fruitfulness and abundance, hence we call it our "BLESSINGS COLLECTION". These very popular candles have a delightfully fruity aroma and come in a wide variety of styles and containers. Enjoy it yourself or "bless" someone special!
Nu 13:23
"They came to the valley of Eshkol, and cut down from there a branch with one cluster of grapes, and they bore it on a staff between two; they brought also of the pomegranates, and of the figs."